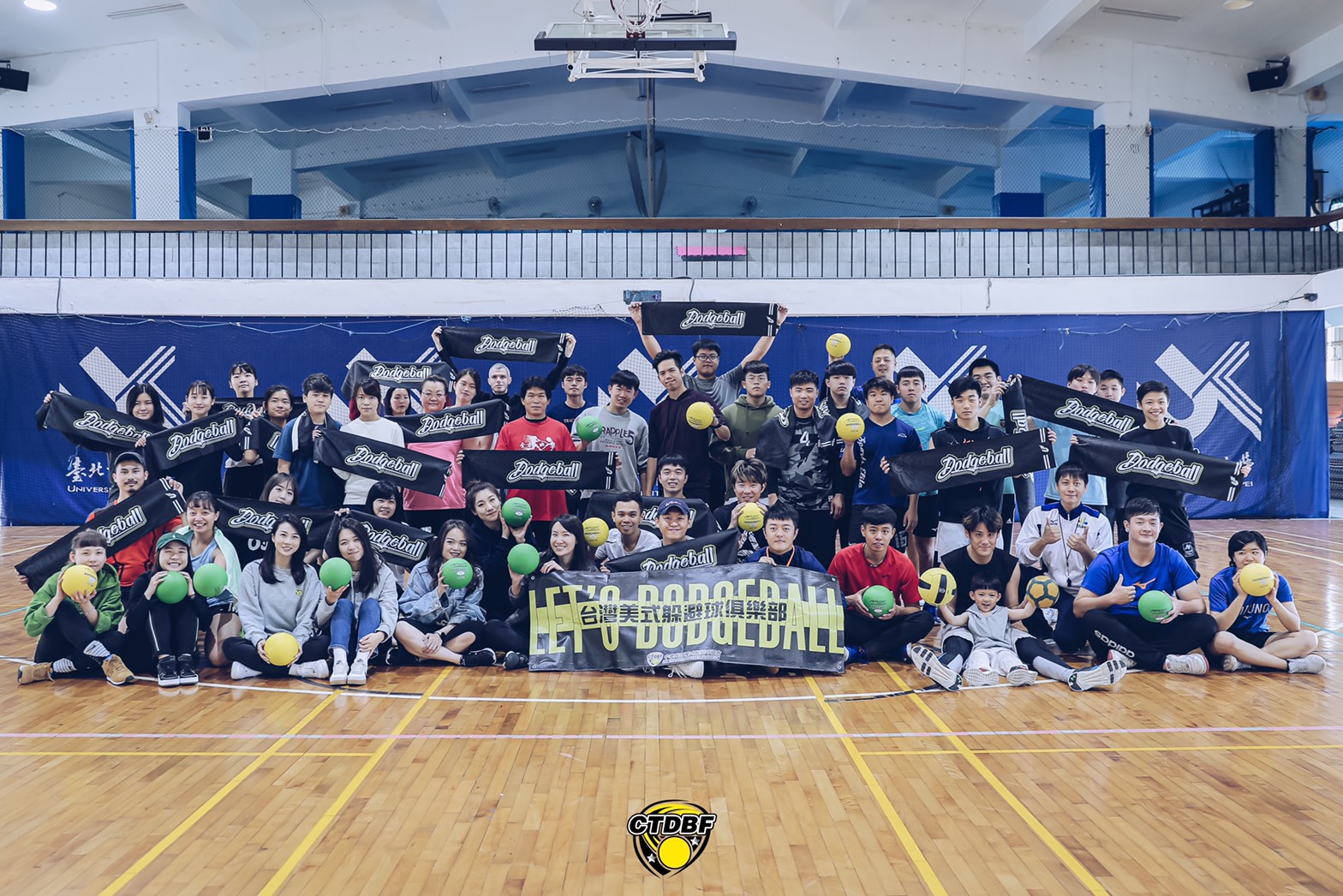 Chinese Taipei DodgeBall Federation
中華⺠國複式躲避球協會
宗旨
建立複式躲避球運動選手、裁判、教練會員登錄資料庫。

設置複式躲避球運動選手、裁判、教練培訓計畫,培養國內優秀運動人才。

引進並推動複球「躲避球」運動,並培訓隊伍代表中華⺠國參加世界盃等國際賽事。

建立網站蒐集國內外相關資訊,發行數位文摘及報導等以其他方式提供大眾正確複式躲避球運動資訊。

協助辦理複式躲避球運動科學研究及發展。

建立複式躲避球運動全國賽事及競賽制度,並舉辦競賽及推廣活動。

推動複式躲避球國際體育交流活動。

成立「台灣美式躲避球俱樂部」以推廣成為全⺠休閒運動、企業Team building團體運動。
Mission
1. Establish database of dodgeball players, referees, and coaches.
2. Set up training program for dodgeball players, referees and coaches, rear national outstanding athletes.
3. Introduce and promote dodgeball, train teams to represent Taiwan in international competitions.
4. Collect national and international relevant information, publish digital abstracts and reports to provide the public with correct information of dodgeball.
5. Assist in scientific research and development of dodgeball.
6. Establish competition system, hold and promote dodgeball competitions.
7. Promote dodgeball networking events.
8. Promote dodgeball as leisure sports and corporate sports.
誰是複式躲避球運動的參與對象?
對複式躲避球有興趣之人士。

熱愛運動之人士,男女不拘。

單式躲避球隊出生身之國高中學生、社會人士。

全台各大校園體育老師、裁判、教練。

學生家長。

曾於海外接觸複式躲避球運動人士。

企業躲避球運動趣味競賽。
Who Can Play Dodgeball?
Anyone who is interested in dodgeball

Anyone who is passionate in sports, regardless of gender

Single-dodgeball players

Sport teachers, referees, coaches from any school

Parents of students

Anyone who has heard about or played dodgeball overseas

Companies interested in holding dodgeball activities
CTDBF願景
建立透明協會運作體制,向政府爭取台灣躲避球運動員權益。
透過引進複球式躲避球並培訓台灣選手,參與世界躲避球大賽。
結合運動視覺設計,將躲避球運動時尚化、現代化推廣。
降低參與門檻,吸引各大團隊接觸躲避球運動。
辦理躲避球運動賽事活動及全國最高層級比賽,培訓國家代表隊。
建立複式躲避球制度,培訓相關人才及辦理聯盟賽事。
CTBDF Vision
Establish a transparent operation system, fight for the rights of Taiwan dodgeball players.
Participate in world-class dodgeball competitions through the introduction of dodgeball and training of Taiwan dodgeball team.
Combine visual design with sports, make dodgeball a more stylish and attractive activity.
Lower the barriers to participation, attract more teams to approach dodgeball.
Hold dodgeball events and national competitions, train the national dodgeball team.
Establish system for dodgeball, train relevant talents and hold league matches.

中華民國複式躲避球協會理事長 李承安Eddy Li
為從事躲避球運動逾20年的資深球員,台灣躲避球前國家代表隊,曾代表台灣奪下亞洲盃躲避球賽亞軍、全港盃躲避球賽銀牌。
台灣唯一擁有陸港台三地躲避球教學及實戰經驗,現役台北市代表隊員,香港閃避球聯會顧問委員、臺北市體育總會躲避球協會理事、中華民國複式躲避球協會理事長、運動設計公司眾星實業負責人。
Founder and Chairman of Federation.
Li Cheng An, Eddy.
A veteran player who has been engaged in dodgeball for more than 22 years, the former Taiwan national team of dodgeball – who has won the first runner-up in Asian Dodgeball Cup and Hong Kong Dodgeball Game.
The only one in Taiwan who owns teaching and practical experience in all three locations – Hong Kong, Taiwan and mainland China. Players of Taipei City Representative Team, Consultant Committee of Hong Kong Dodgeball Federation, Chairman of Taipei Sports Federation Dodgeball Association, Chairman of Chinese Taipei DodgeBall Federation and Director of Unistar Taiwan company.